10 Interesting the Burren Facts
Let's find The Burren Facts in the below post. The burren is a term used to call a karst landscape. The location is in County Clare, Ireland.  The Irish word for the burren is Boireann. The meaning of this word is great rock. The villages of Lisdoonvarna, Kilfenora, Corofin, Tubber, Kinvara and Ballyvaughan encircle the burren. It has the measurement at 250 square km. Here are other facts about the burren:
The Burren Facts 1: Burren National Park
The burren is located inside Burren National Park. It is considered as the smallest national park in Ireland by size. It has the area of 15 km square. If you want to reach the Burren National Park Visitor Centre, you can go to Church Street in Corofin, Country Clare, and Ireland.
The Burren Facts 2: the important sites
The people who visit the Burren will be able to note on the archaeological and historical sites. You can spot at least 90 megalithic tombs.
The Burren Facts 3: other archeological sites
Other archeological sites in the burren are Caherconnell Stone Fort, Corcomroe Abbey, Celtic high cross and Poulnabrone dolmen.
The Burren Facts 4: the unusual environment
The burren has the unusual environment. There is no need to wonder that you can see the presence of the alpine, Mediterranean and arctic plants. The limestone pavements are the main composition on the rolling hills of Burren.
The Burren Facts 5: the climate
The temperate climate in Burren is unusual. In July to January, it has the average air temperature at 15 degrees C to 6 degrees C. Get facts about Andes Mountains here.

The Burren Facts 6: the growth of grass
You can spot the growth of grass in the Burren if the temperature is increased above 6 degrees C. Therefore, the burren is the home of the rich and diverse plants in Ireland.
The Burren Facts 7: the sunniest period
The sunniest period of time in the Burren is in the late May. It is considered as the best time for the people to enjoy the beauty of flowers.
The Burren Facts 8: the species of flowers
Burren is the home for around three quarters of Irish flower species.  Numerous flowers and plants in the burren are given moist shelter by grikes or crevices. Find facts about the Alps here.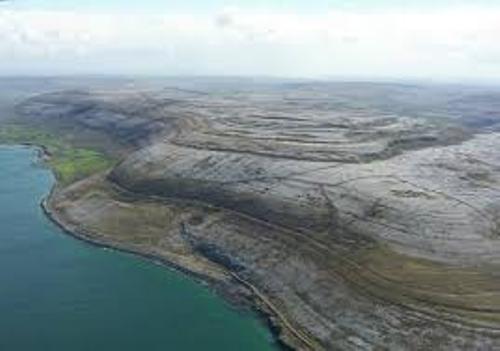 The Bur